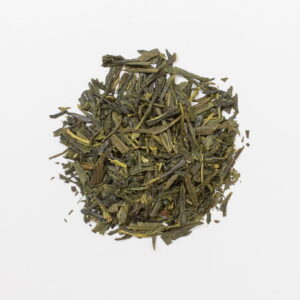 Sencha Japanese Green Tea Certified Organic
$19.95
Sencha Japanese Green Tea Certified Organic – The Fukujyo  region is one of the most prestigious tea growing regions in Japan. Sourced direct from the gardens this tea is a fine example of premium quality Japanese sencha. With minimum tannin (bitterness) its a cleansing tea and a must for the discerning green tea drinker.
5 – 10mm leaves
500 serves /kg. Reuse leaves twice
Origin – Fukui Prefecture, Japan
Harvest – April
Taste Round sweet and fresh
Ingredients Organic Japanese green tea
Why Choose Organic Tea? – Certified Organic teas and herbs are grown for a minimum three year period without using any harmful synthetic chemicals or pesticides. Enjoy knowing you are choosing the best for your body.
Brewing

1 tbsp (2g)

200ml

80

5 mins


hot